Certifications
Tight Lines Contracting is a progressive organization that believes in offering its customers the best available solutions, processes and design methodologies that meet environmental, construction excellence and insurance certifications. Tight Lines Contracting manages and supports membership and certification with the following:
The Canadian Home Builders' Association of British Columbia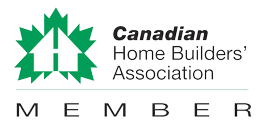 The Canadian Home Builders' Association of British Columbia is the voice of the residential construction industry in BC, dedicated to fostering a housing environment in which the industry operates effectively and professionally while maintaining affordability and profitability.
Built Green™

Built Green™ promotes construction of buildings that are healthier for the occupants and healthier for the environment. Sustainable or "green" building practices can reduce the tremendous impact that building has on both people and nature. Tight Lines is qualified as a "green" builder and guarantees:
Better energy efficiency means comfort and long term savings for the homeowner
Healthier indoor air means comfort, better health and peace of mind for the family
Durable, reduced-maintenance materials mean a longer life for the home and long term savings
Preserving natural resources means leaving more for future generations to enjoy.



Tight Lines also offers new home warranty protection as a matter of course. We have a relationship with Travelers Guarantee who provides options to our clients. Travelers Guarantee is a property and casualty insurance company, incorporated under the Canadian and British Insurance Companies Act serving the Canadian building and other markets for many years.